Kyokushinkai karate suits
Read more
€100,-
Unit price : €90,00 / Piece
In stock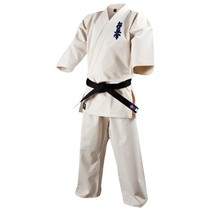 €97,50
Unit price : €82,50 / Piece
In stock
€100,-
Unit price : €90,00 / Piece
Out of stock
CUSTOM MADE EMBROIDERY

THE BEST SERVICE FOR OUR CUSTOMERS

WORLDWIDE (EXPRESS) DELIVERY
Kyokushinkai karate suits

Budoworldshop is an online platform compiled with high-quality martial arts products, including our kyokushinkai karate packs. The composition originated from years of experience within the industry, in order to be able to put together the best karate suits. Budoworldshop is working 24/7 on optimizing the martial arts articles and the range of the highest quality karate suits.
The karate suits from Budoworldshop are designed by our own brand ISAMU. Thanks to years of experience, the karate suits have been improved in every respect to the wishes of the customer, in order to be able to deliver the best suits. The suits are durable and last for years! There is also the possibility to pack embroidery with, in order to realize your dream karate suit!
For whom?

The kyokushinkai karate packs from Budoworldshop are made for the practitioner who sets high on the suit. We are very fond of the quality of our karate suits to make them as high as possible for our customers. This makes it durable quality products that last a long time. They are ideal suits, if you are a bit longer in the sport, but also if you want to make a good start. Our assortment also goes through to young people and we have children's suits.
Kyokushin Karate

The Kyokushin Karate 極 真 空手 or KyokushinKai Karate 極 真 会 空手 is a modern form of Karate developed by the originally Korean grand master Masutatsu Oyama (大 山 倍 達 Oyama Masutatsu).
Kyokushinkai as a school was founded in 1953 at the time it was nothing more than a lawn in Meijiro in Tokyo. Since the first World Championships in 1975, the Kyokushinkai Karate has been officially known worldwide as the hardest form of Full contact Karate.
Masutatsu Oyama (1923-1994) developed the Kyokushinkai Karate mainly from Shotokan Karate and GojuKai Karate. Mas.Oyama trained Shotokan Karate at Gishin Funakoshi & Goju Kai Karate at Gogen Yamagushi.
The Kyokushin Karate pays a lot of attention to Kumite (spruce or competition Karate) and has an extensive range of Kata's (established exercises).
View our Kyokushinkai karate suits!