€8,95
Unit price : €5,50 / Piece
Out of stock
Unit price : €14,50 / Piece
In stock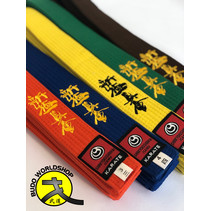 €17,95
Unit price : €14,50 / Piece
In stock
CUSTOM MADE EMBROIDERY

THE BEST SERVICE FOR OUR CUSTOMERS

WORLDWIDE (EXPRESS) DELIVERY
Karate belts / karate obi's
Karate belts - Budoworldshop is an online platform compiled with high quality martial arts products, including our karate belts. The composition originated from years of experience within the industry, in order to be able to put together the best karate belts. Budoworldshop is continually working on optimizing the martial arts articles and the range of the highest quality karate belts.
For whom?
The karate belts from Budoworldshop are made for the practitioner who puts high on the belt. We are very fond of the quality of our karate belts to make them as high as possible for our customers. This makes it durable quality products that last a long time. They are ideal belts, if you spend a bit longer in the sport, but also if you want to make a good start. Our assortment also goes through to young people and the belts are also for children.
Choice
Our range also includes different karate styles. When purchasing a karate belt, you can therefore take into account the karate style you practice. We sell Kyokushinkai, Shinkyokushin and AIKO Ashihara II karate betls.
Kyokushinkai is, like other karate styles, an originally Japanese martial art. The inventor of this style is Masutatsu Oyama. Karate itself is a Chinese martial arts-derived martial art that was developed in Okinawa and later in Japan.
The Shinkyokushin Karate is an authentic originally Japanese martial art. This power karate or full contact style originated from the Kyokushinkai Karate of Mas Oyama. In addition to endurance training, the practitioners also practice basic techniques (kihon), style forms (kata) and practice fights (kumite). Proper practice promises an above average control of your body, your thinking and your skills. Especially the intensive nature of the training appeals.
Ashihara karate is a modern full contact street karate, developed by Kyokushin Karate by Hideyuki Ashihara with Boxing, Muay Thai and Jujutsu with an emphasis on Sabaki. The style is revolutionary because it only focuses on practical application in a real fight, including multiple attackers, a street style, with all techniques effective in a real fight against an attacker or multiple attackers of any size. Sabaki uses footwork and techniques to reverse an opponent's strength and momentum and to move himself to the "blind" spot of the opponent.

Budoworldshop karate belts!